---
It's an odd scene to picture: a domainer's reps in a sit-down with Ephraim Inoni, the prime minister of Cameroon, to discuss the power of type-in typo traffic and pay-per-click ads. And yet, as with most of the angles Ham has played, the Cameroon scheme is ingeniously straightforward.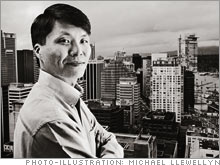 Ham's people installed a line of software, called a "wildcard," that reroutes traffic addressed to any .cm domain name that isn't registered. In the case of Cameroon, a country of 18 million with just 167,000 computers connected to the Internet, that means hundreds of millions of names. Type in "paper.cm" and servers owned by Camtel, the state-owned company that runs Cameroon's domain registry, redirect the query to Ham's Agoga.com servers in Vancouver.
The servers fill the page with ads for paper and office-supply merchants. (Officials at Yahoo confirm that the company serves ads for Ham's .cm play.) It all happens in a flash, and since Ham doesn't own or register the names, he's not technically typo-squatting, according to several lawyers who handle Internet issues.
The method is spelled out in a patent application filed by a Vancouver businessman named Robert Seeman, who Ham says is his partner in the venture and who also serves as chief adviser at Reinvent Technology. (Seeman declined to be interviewed for this story.)
Ham won't reveal specifics but says Agoga receives "in the ballpark" of 8 million unique visitors per month. Fellow domainers, naturally, are envious.
"As soon as it started happening, there was a huge sense of 'Why didn't I think of that?'" says attorney Berryhill, who represents Schilling and other domainers.
Still, several companies have already tracked down Ham's attorneys, claiming trademark infringement. Ham argues that his system is legally in the clear because it treats every.cm typo equally and doesn't filter out trademarked names.
Berryhill concurs. "You can't really say that [wildcarding] is targeting trade-marks," he says. "It captures all the traffic, not just trademark traffic." Moreover, the anti-cybersquatting statute applies only to people who register a trademarked domain; using a wildcard doesn't require registering names.
Clever though it may be, .cm is "a very small part of our operations," Ham says. He won't disclose how much he pays to the government of Cameroon, whose officials could not be reached for comment.
The partnership has been a rocky one so far, and the system has sporadically shut down. But .cm is only one of several country domains where the typo play can work. According to Ham, he and his team are working with other governments. The dream typo play — .co — belongs to Colombia, to which Ham says Seeman paid several visits long before they began working on Cameroon. (Citing safety concerns, Ham hasn't yet made the trip. "I would only go if the president requests to meet me," he says.)
As for other countries he might soon invade, Oman (.om) is an obvious target. Niger and Ethiopia are out there too, but since they would play off less lucrative .net typos, they might not be worth the trouble.
As for Colombia, Ham says, "we're making progress."
---