---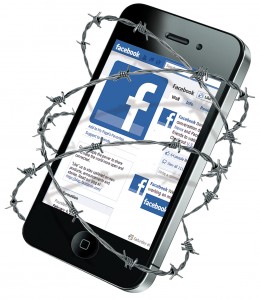 There has been many intriguing issues come into light recently from posts that people enter into their facebook pages. These issues include (and there's more):
1. Workplace discrimination, firings, demotions,etc. A good number of Facebook users have already been given pink slips based on what they have posted. Some were sent to the unemployment line for venting about their jobs or posting harmless pictures from their vacation, while most were stupid enough to admit crimes and engage in racist rhetoric.
2. Semi-bogus internet disclaimers added to facebook posts. Example: "WARNING – Any person and/or institution and/or Agent and/or Agency of any governmental structure including but not limited to the Federal Government also using or monitoring/using this website or any of its associated websites, you do NOT have my permission to utilize any of my profile information nor any of the content contained herein including, but not limited to my photos, and/ or the comments made about my photo's or any other "picture" art posted on my profile. You are hereby notified that you are strictly prohibited from disclosing, copying, distributing, disseminating, or taking any other action against me with regard to this profile and the contents herein. The foregoing prohibitions also apply to your employee(s), agent(s), student(s) or any personnel under your direction or control. The contents of this profile are private and legally privileged and confidential information, and the violation of my personal privacy is punishable by law.
Viewing my profile means that you have read, understand, and agree with the privacy notice above."
Facebook's stance in copyright is this: "As outlined in our terms, the people who use Facebook own all of the content and information they post on Facebook, and they can control how it is shared through their privacy and application settings. Under our terms, you grant Facebook permission to use, distribute, and share the things you post, subject to the terms and applicable privacy settings," says Facebook spokesman Andrew Noyes.
So, I guess that this actually means you are posting a privacy disclaimer within a facebook disclaimer which states that anything you post is public domain and that you agreed to this when you signed up for facebook.
3. Threats – real or imagined having the consequences of the feds raiding peoples houses and hauling them to jail. There are many instances for threats being reported from within facebook and other forms of communication. Recently,Christopher Castillo, 28, was arrested in November 2012 after prosecutors say he posted a message on his Facebook page reading, "That's the last straw, if he gets reelected I'm going to hunt him down and kill him and watch the life disappear from his eyes."
Agents went on to testify that when they followed up on Castillo's threats, the Brevard County man told them, "I wouldn't call it a threat, more of a promise. I'd be more that happy to take a few of them with me."
Castillo's defense attorneys say that Castillo didn't realize the seriousness of what he was saying and wouldn't have gone through with the threats. One public defender said that Castillo made those comments when he was unemployed and unable to control his anger.
The Secret Service was notified of the post and agents went to question Castillo at his Melbourne home. Agents say Castillo told them if Obama were standing in front of him he would slap him and beat him up and that it didn't matter to him that threatening the president was a violation of federal law.
4. Facebook dangers; i.e. birthdays,etc. Of all the things that you shouldn't post, if you can only choose one, it should be this. Keep your birthdate figures a secret. Why? Do you know what birthdays are good for apart from reminding everyone to add another candle on your chocolate cake? Yeah, passwords to emails, online accounts and websites. Do not deny it.
When asked to provide a 6-to-8 character password, the first thing that pops into your mind will probably be a variation of your birth date or the birthdates of someone close to you. But if you have to put your birthday up (just to feel the love Facebook reminders have to offer), consider not revealing the year you were born.
---